Native American Voices: WCA Creative Production
April 13 @ 7:30 pm

-

April 14 @ 7:30 pm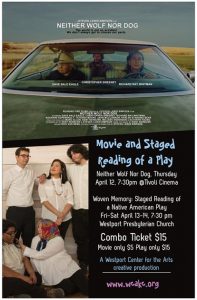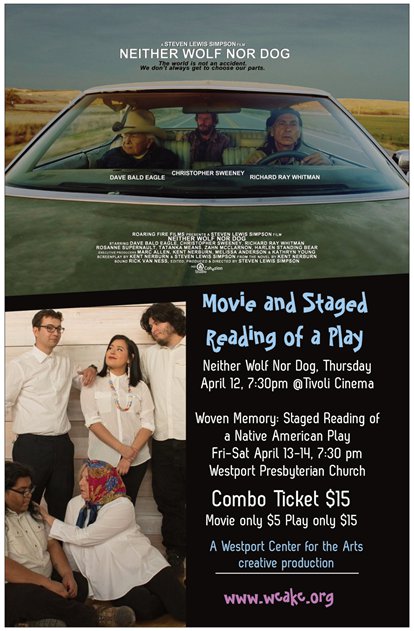 Two upcoming Kansas City events, a movie screening and a staged reading to focus on Native America voices is being presented by Westport Center for the Arts.
The staged readings of Dianne Yeahquo Reyner's Woven Memory are presented by Westport Center for the Arts, at Westport Presbyterian Church, 201 Westport Road, Kansas City, Mo. on Friday and Saturday, April 13-14, 7:30 p.m.
Advance tickets for the play/staged reading are $15.00 (discount available for combo screening and play).
"Woven Memory" is an original work including adaptations of traditional stories and interviews. The play follows two main characters, Grandmother Spider and Coyote, beginning at the creation. It opens with music and dancing and continues to unfold through the dialogue and shared memories of the two.
Dianne Yeahquo Reyner, an enrolled member of the Kiowa Tribe of Oklahoma, is a performer and director. She is a founding member of both the Lawrence, Kansas – based American Indian Repertory Theater in 2006 and the Thunderbird Theater at Haskell Indian Nations University in 1974. She also worked with author-director Ping Chong on the development of "Native Voices – Secret History," which explored race, culture, and identity in America. She has served as a community cultural liaison for the Lied Center of Kansas and a panelist for the National Endowment for the Arts. Reyner developed and directed the original production of "ReGenerations: a celebration of our journey and transformation" at the Lawrence Arts Center and continues to present work that blends traditional and contemporary storytelling.